The ten greatest one-club legends in football history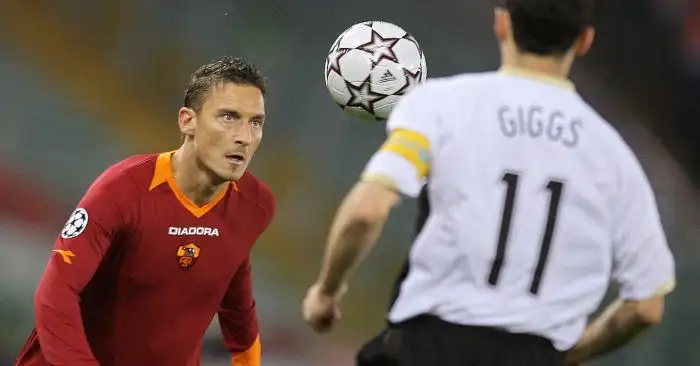 Lionel Messi wants to leave his first and, thus far, only love. The others on this list never acted on those impulses.
10) Billy Wright (Wolves)
The three English league championships Wolves proudly display in their trophy cabinet all have one thing in common: the captaincy of Billy Wright. International football's first centurion cap collector succeeded fellow one-club legend Stan Cullis as skipper of a Molineux ship that dominated the 1950s, with an FA Cup win in 1949 preceding glory in 1954, 1958 and 1959, the year of Wright's eventual retirement.
He missed 31 league games that entire decade and was not booked in 643 appearances for club and country, being voted the world's second best player in 1957 behind Alfredo Di Stefano. All in all, not bad for someone released from his trial by manager Major Frank Buckley at 13 because he was "too small ever to be a professional". He was informed 20 minutes later that "I've been persuaded to change my mind" as "I'm assured you're big where it matters – in the heart". Wolves would not live to regret that decision.
9) Thomas Muller (Bayern Munich)
"I could earn more by moving," acknowledged Thomas Muller in August 2014. "The figures that foreign clubs were talking about for me were astronomical. I can only say: a change was never really an issue for me anyway. FC Bayern is my club."
And it surely always will be. Manchester United tested the waters with a "mad offer" in 2016 but the rejection from both player and club was mutual. He might never be Bayern's favourite Muller but he can console himself with nine Bundesliga titles in 11 seasons, a couple of Trebles and the fact he has played under both Jurgen Klinsmann and Pep Guardiola at club level without ever moving.
8) Carles Puyol (Barcelona)
A decade prior, another academy player given his first real chance by Louis van Gaal found himself on the Old Trafford radar soon after breaking through. "United are one of the best clubs in the world and any footballer would be happy to play there," said a respectful Carles Puyol upon hearing of Sir Alex Ferguson's interest. "If it's for the good of the club I'll help out, but I'm happy here and this is home for me."
With the Joan-inducing change of presidency from Gaspart to Laporta in 2003, Barcelona found more creative ways of servicing their rising debts than selling their homegrown produce. Puyol stayed, became club captain in August 2004 and led arguably the most dominant team in the sport's history. After a decade of wearing the armband, the centre-half had six La Liga titles, three Champions Leagues and the fact he never had to play alongside David Bellion to look back on.
7) Lev Yashin (Dynamo Moscow)
Few could ever question the unwavering loyalty of the greatest goalkeeper of all time, considering it actually spanned different sports. Lev Yashin was so intrinsically linked with Dynamo Moscow that he won two version of the Soviet Cup in 1953: in football and ice hockey.
The first of Yashin's five Soviet league championships arrived a year later, and the Ballon d'Or almost a decade after that. The individual acumen of the second-oldest winner in history is unquestionable and iconic. But quite what it was about a club affiliated with the KGB that convinced him to stay for 20 years despite modest team success is unknown.
6) Tony Adams (Arsenal)
David O'Leary made more appearances for the Gunners, Kenny Sansom and David Seaman won more England caps while playing in north London and George Graham dropped Steve Morrow more often, albeit rather less literally. But any thought of Arsenal instantly evokes memories of their prodigal son, Tony Adams.
From 1980 to 2002, he epitomised the highs and lows of the club. A title-winning captain in three different decades, Adams straddled those polar opposite worlds of Graham and Arsene Wenger to excel in what were essentially two separate careers. The personal demons that underpinned his early achievements were exorcised emphatically – and immortalised gloriously in statue form – on that bright Sunday evening against Everton in May 1998.
Here's 'that' Tony Adams celebration against Everton, 1998. Iconic. pic.twitter.com/UYV2KKJjSS

— Squawka Football (@Squawka) October 10, 2014
5) Francesco Totti (Roma)
Everyone has that one player they struggle to understand, whose hype they refuse to buy into until the evidence provides too compelling a case to keep stubbornly ignoring. Many doubted Zlatan Ibrahimovic until he ruined the international career of Ryan Shawcross. Plenty still insist they never saw Franck Ribery have a good game. And to a belligerent few, Francesco Totti is romanticised beyond his talents.
It was after his match-winning penalty against the previous season's runners-up, Bayern Munich, in a Champions League group game in November 2010, that the punditry trifecta of Souness, Venables and Hoddle took aim. The first pointed out that "he's never been accused of being a workaholic," the second branded him a "luxury" player and the third insisted he was "not top, top drawer" as he "should've moved on" and "someone would have got him" if he was.
Leaving aside the fact Totti turned down the literal Real Madrid and AC Milan during his career, it was a sign of the disrespect that followed him from boy to man to legend. One Scudetto and two Coppas Italia in 25 years in the capital was worth more to a boyhood fan than a seasonal supply of trophies elsewhere. Roma's all-time leading scorer and appearance maker will be content enough.
4) Franco Baresi (Milan)
The art of retiring a shirt number has been rendered relatively meaningless this summer, yet the concept was invented for someone like Franco Baresi. Even through two relegations he stayed to captain Milan to the summit of the game, the leader of the greatest defence in history.
Those 20 years spent stamping on the feet of strikers and reading the game with the diligent ease of a takeaway menu on a Saturday night had the most inauspicious beginnings. Baresi benefited from his brother Giuseppe already being in the system of Internazionale, who offered the younger sibling a trial at 14. Franco was rejected due to concerns over his physical development, but their trash was Milan's rugged, wonderful and impermeable treasure. And, for those weird two months in 2002, Fulham's director of football.
3) Ryan Giggs (Manchester United)
Paul Scholes has been disqualified on account of his solitary appearance for son Arron's Manchester Football League Premier Division team Royton Town in 2018. So picking up the baton for Old Trafford is eternal teammate Ryan Giggs, who made his professional debut as a substitute for Denis Irwin, born in 1965, and replaced James Wilson, born in 1995, for his 963rd and final club game.
There were a few trophies won in between, including nine Community Shields and a UEFA Super Cup. They probably fill the mantelpiece instead of the medals from winning two Champions Leagues and as many Premier League titles as Arsenal, Chelsea, Liverpool, Manchester City, Tottenham and Royton bloody Town combined.
2) Paolo Maldini (Milan)
A brief cameo for 'Good' aside, in which he finally dispossessed the physically domineering 'Evil' and started the move from which Eric Cantona vanquished the opposition, Paolo Maldini has always been more Milan than a saffron risotto at a fashion show in a cathedral.
No player has featured in more Champions League finals than his eight, nor scored in one as quickly as he did in 2005. Only that selfish sod Alessandro Costacurta prevents Maldini being simultaneously the youngest and oldest player in Milan history. But he at least has 187 more appearances for the club than anyone else. Try as Real Madrid and Manchester United did, there was no removing those glorious locks from the San Siro.
1) Lionel Messi (Barcelona)
Even the most committed relationship goes through its peaks and troughs, those moments when one or even both parties begin to consider whether they would be happier and more fulfilled elsewhere. Lionel Messi, contrary to popular belief and mountains of evidence, is only human. He and Barcelona could still reconcile, as unlikely as that currently seems.
Since he joined aged 13 he had been given little reason to contemplate a future elsewhere, with this only his third season of 16 without major club honours. Bayern Munich have forced some uncomfortable questions, the answers to which Barca have simply rejected. And whether this summer, next or in his twilight with a return to Argentina, Messi will surely see out his career somewhere other than the Nou Camp. But for now, the greatest player in history is the most legendary one-club man of all.
Matt Stead