The moment each Premier League side's 2021/22 season fate was decided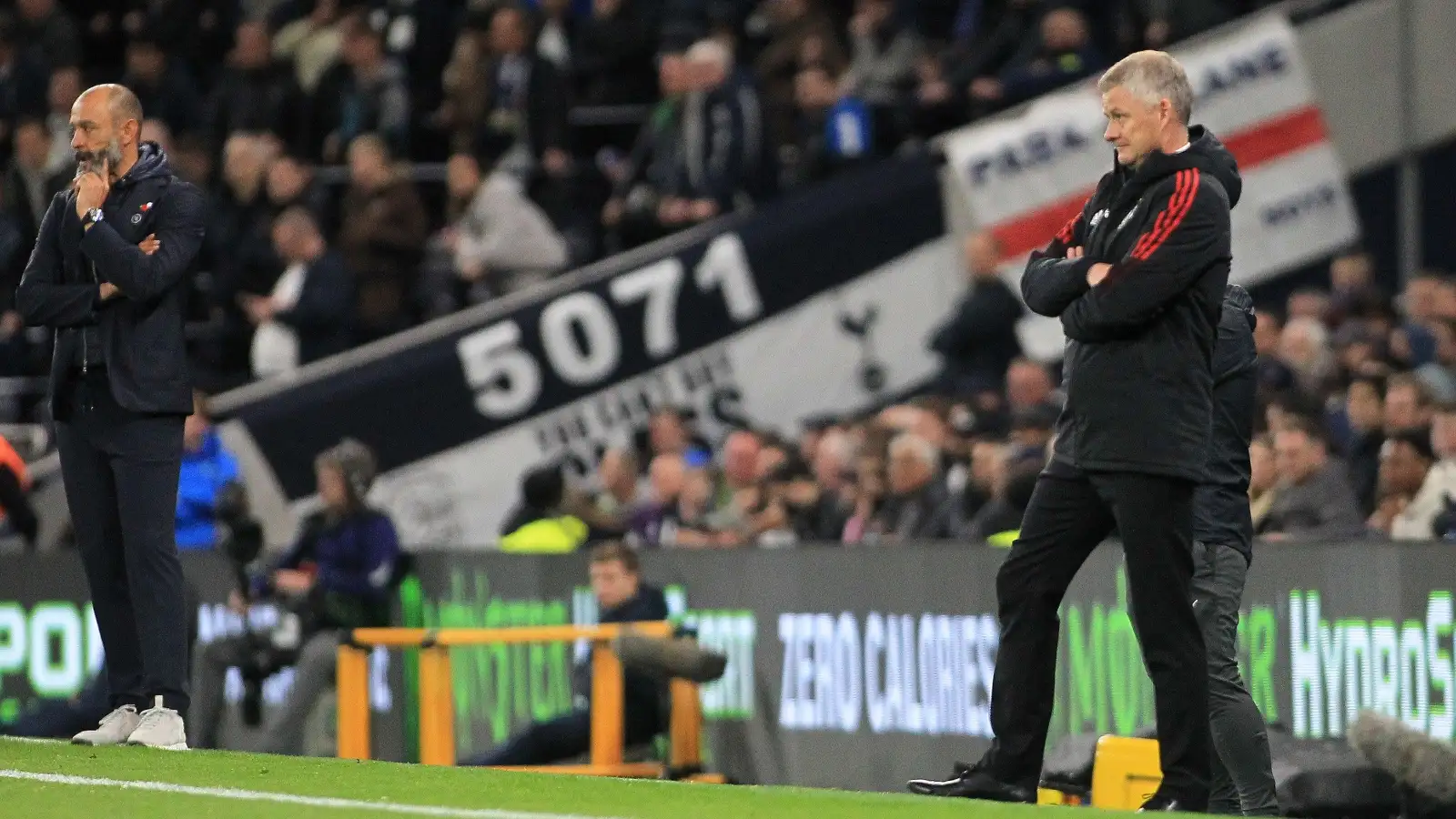 October's El Sackico between Manchester United and Tottenham features twice as we look at the moment that decided where each Premier League team was destined to finish in 2021/22.
Arsenal – Defeat away to Tottenham
The Gunners had fourth spot in their grasp and knew that a win at Tottenham on May 12 would secure them Champions League football for the first time in donkeys. Arsenal were emphatically beaten in classic Arsenal fashion by conceding a silly penalty which Harry Kane obviously converted, then stupidly going down to 10 men, all inside the opening 45 minutes. Spurs had that psychological boost from the win and went on to finish fourth after Arteta's side were brushed aside at Newcastle a few days later – a result many fans expected after losing the north London derby.
Aston Villa – Defeat at home to Tottenham
Villa slumped to a 14th-placed finish after positive summer and winter windows on top of the ambitious appointment of Steven Gerrard in November. Expectations were high despite the sale of Jack Grealish, with yours truly backing the Villans to finish in the top eight thanks to a great season from Leon Bailey.
Their defeat to Spurs was their fourth in a row after losing to West Ham, Arsenal and Wolves. Gerrard's side peppered Hugo Lloris' goal but couldn't find a breakthrough and Spurs ran out 4-0 winners thanks to the ruthlessness of Heung-min Son. This game summarised a frustrating season for Villa and made it clear that it was already time to plan for 2022/23.
Brentford – The signing of Christian Eriksen
Brentford had a great start to the season and looked like they would be absolutely fine in their maiden Premier League campaign. However, their form dipped and many believed Thomas Frank's men could find themselves in a relegation battle. Enter Christian Eriksen. The Danish playmaker joined in January but didn't make his debut until February 26. His arrival was a boost but it wasn't evident on the pitch until he actually kitted up. His debut was a loss at home to Newcastle but after shaking off the cobwebs, Eriksen was absolutely tremendous as Brentford surged to an impressive 13th.
Brighton – Victory away to Arsenal
Brighton had lost six in a row before being met with a chorus of boos following a 0-0 home draw against Norwich. Perhaps Albion's season had fizzled out. Maybe the players were, as they say, on the beach. But no, they were far from finished as Graham Potter got his team's season back on track with a win at Arsenal on April 9. Derailing the Gunners' Champions League hopes in the process, they then did them a favour with a win at Spurs. Convincing victories against Wolves, Manchester United and West Ham meant the Seagulls went on to finish a club-record 9th in the top flight.
Burnley – The sale of Chris Wood
No, not the sacking of Sean Dyche, but the sale of Chris Wood to Newcastle. The Magpies would have played an absolute blinder if they were in the relegation fight until late on in the season – instead they just absolutely f****d over a Premier League rival. Burnley struggled to score goals all season and in January sold a player who had scored at least 10 times in all of his top-flight campaigns at Turf Moor. Having only gone down on the last day, Wood's goals probably would have saved Burnley.
Most Premier League goals scored for Burnley since Chris Wood joined the club in 2017/18:

◉ 49 – Chris Wood
◎ 30 – Ashley Barnes
◎ 9 – Jay Rodriguez

Way out in front. 😬 pic.twitter.com/BMRRe2YUhv

— Squawka (@Squawka) January 11, 2022
Chelsea – The war in Ukraine
With a title race out of the equation after a number of poor results, they ended up occupying third spot in the league for ages and attention quickly turned to their off-the-pitch concerns after Roman Abramovich's sanctions forced him to put Chelsea up for sale. It became a messy situation and their season petered out as a result.
Crystal Palace – When they took a chance on Patrick Vieira
Palace had a huge summer in 2021 with Roy Hodgson and numerous players leaving. Lots of names were linked with the managerial role, but Steve Parish took a chance and brought in Patrick Vieira as the Arsenal legend took on his first Premier League job. After failing to win any of their first four under the Frenchman, they beat Spurs, then didn't win again in four, only to beat Man City away. A lot of their draws easily could have been wins and Vieira had them playing some great stuff as he earned lots of praise throughout the 21/22 campaign.
Everton – When a fan graffitied outside Goodison Park
Everton were poised to appoint Vitor Pereira as their new manager after the sacking of Rafael Benitez, but a fan spray-painted the words 'Pereira out Lampard in' outside Goodison Park. The Toffees listened and stayed up.
Everton's merry-go-round continues 😳

Vitor Pereira, the frontrunner to be new manager gave an interview to Sky Sports on TV about the job.

…he hasn't gotten the gig yet!

Graffiti has already emerged at Goodison Park reading 'Pereira out, Lampard in'.

Madness.#OptusSport pic.twitter.com/Bhzn5TAXSs

— Optus Sport (@OptusSport) January 26, 2022
Leeds – The sacking of Marcelo Bielsa
Marcelo Bielsa is a Leeds United legend, no doubt about it, and many fans were extremely critical of the Yorkshire club for sacking the Argentine, but it ended up being the right decision. Jesse Marsch came in and shook things up, and that is exactly what Leeds needed. It was bloody close, but the American guided Leeds to safety. Marsch needs to bulk up his squad this summer to avoid another relegation battle.
Leicester – When they conceded from a corner for the first time
Leicester had a right weird season. They somehow finished 8th when they easily could have finished 14th. Their Achilles' heel was clearly defending set-pieces, and as soon as they conceded from a corner for the first time, teams obviously sat up and thought: 'Well, they are pretty s**t at this'. And since then, the Foxes were absolutely goosed as they got exposed time after time.
Liverpool – Drawing away to Manchester City
Liverpool needed to win at City to win the league. A draw kept them in touching distance but it was not enough to win their second Premier League title. After the draw, barring a freak result or two, the Reds were always going to finish second.
Manchester City – Drawing at home to Liverpool
I mean, it wouldn't make much sense to say anything else now…
Nights spent top of the Premier League in 2021/22:

Man City – 168
Chelsea – 70
Man Utd – 14
Spurs – 13
Liverpool – 11

— Amazon Prime Video Sport (@primevideosport) May 24, 2022
Manchester United – Winning away to Tottenham
Sacking Ole Gunnar Solskjaer after finishing second in the league last season would have been harsh, but it was the right thing to do. United instead backed him by signing Raphael Varane, Jadon Sancho and Cristiano Ronaldo, and everyone thought they would challenge for the title. It was not to be, and Solskjaer was under pressure early on in the season. He went to Spurs in October and played out the El Sackico with Nuno Espirito Santo also struggling. United won the game, but also lost it, as Solskjaer stayed for a bit longer and Nuno left Spurs to be replaced by Antonio Conte.
Newcastle – The completion of their Saudi-led takeover
It eventually happened and now they're safe and officially minted.
Norwich – When they achieved promotion to the Premier League
This is what Norwich do: they yo-yo. See you again next year.
Southampton – When they realised they were safe
Southampton's end to the season was worrying. They won one of their last 12 league games and perhaps the win against Norwich on February 25 allowed everyone at the club to get a little too comfortable. They ended up finishing on 40 points, one more than Everton, who were in danger of being relegated until the 85th minute of their penultimate game.
Tottenham – The appointment of Antonio Conte
As a result of the aforementioned El Sackico, Spurs binned Nuno and appointed Conte. After months of moaning and saying his side had no chance of finishing in the top four, they did it at the expense of Arsenal. That must've felt pretty sweet.
Watford – The sacking of Xisco Munoz
Watford did a Watford pretty early on in the season and became the first club to dismiss their manager, sacking Xisco Munoz. It showed that it was going to be same s**t, different season for the Hornets.
This season…
Points per game:

Xisco: 1
Ranieri: 0.5
Hodgson: 0.6

Goals scored per game:

Xisco: 1
Ranieri: 1.2
Hodgson: 0.5

Goals conceded per game:

Xisco: 1.2
Ranieri: 2.1
Hodgson: 1.7 pic.twitter.com/eeIWJneiG1

— Watford Talk (@WatfordTalk) March 10, 2022
West Ham – Victory away to Rapid Vienna
The Hammers balanced the Thursday/Sunday schedule pretty well, but it eventually caught up to them. Victory against Rapid Vienna on matchday five of their Europa League group stage campaign secured their qualification to the knockout stage of the competition, and then it became a case of all the eggs in one basket.
Wolves – Defeat away to Arsenal
Similar to Southampton and Aston Villa, a single result seemed to make Wolves start concentrating on next season, or perhaps their summer holidays.
Wolves were flirting with the idea of European qualification and after wins against Leicester and Spurs, they were beaten 2-1 by Arsenal – who scored in injury time to win on February 24. That result seemed to knock the stuffing out of them and the Molineux club were inconsistent between then and the end of the season.