Lascelles skippers a Newcastle-heavy Worst XI of the weekend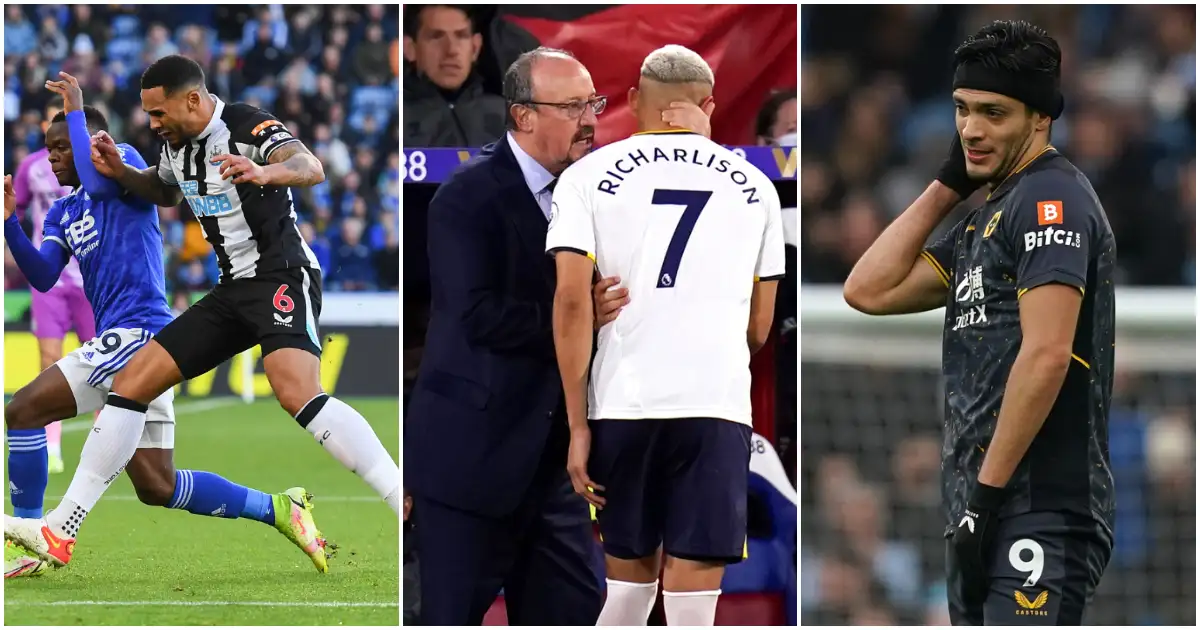 Lots of Newcastle, plenty of Everton and a smattering of Wolves.
Here's the worst team of the Premier League weekend according to Whoscored ratings…
GK: Martin Dubravka (Newcastle) – 5.20
Conceding four goals will do that to a goalkeeper's mark, but really. Newcastle's problems at Leicester were in front of their keeper. And there were a lot of problems.
RB: Seamus Coleman (Everton) – 5.64
Capped a miserable night in south London by rushing a free-kick and giving the ball away for man of the match Conor Gallagher (9.83, by the way) to curl home a delightful, points-sealing third goal for Crystal Palace as Everton made sure to completely p*ss away all the optimism and hope from Monday night in the most Everton way possible.
CB: Jamaal Lascelles (Newcastle United) – 5.02
Conceded a clumsy penalty in the first half, and really it only went downhill from there as Newcastle were torn apart by Leicester in the second half. Feels at this stage like he's in this team every single week but it is apparently only his fourth sub-6 rating of the season. That's still too many, though, and this one is a long, long way below.
CB: Ezri Konsa (Aston Villa) – 6.03
Quite something really to only lose 1-0 at Liverpool of all places while statistically the second-worst centre-back of the weekend is stomping around in clown shoes. In Konsa's defence, he was one of a whole cluster of CBs around the 6.00 mark, which isn't really that horrendous. Lascelles was out on his own in the heart of defence.
LB: Kyle Walker-Peters (Southampton) – 6.00
The right-back playing at left-back actually had a higher mark than the right-back playing at right-back for Southampton (Tino Livramento came in with a 5.8) but finds himself in this side anyway. Seems a bit harsh on Walker-Peters that. Guess he has to blame Seamus Coleman, the Nicholas Latifi in this particular affront to sporting integrity.
CM: Ruben Neves (Wolves) – 5.85
Wasn't conspicuously bad, and feels harsh for anyone other than the dismissed fool to make it into this team after being forced to play with 10 men at the Etihad. But numbers are what they are, and Neves' performance was an absence. Lots and lots of zeroes next to his name for both offensive (shots, key passes) and defensive (interceptions, clearances, blocks) tasks. Did make a couple of tackles. Well done, have a biscuit. Booked for dissent in the wake of the Jimenez Daftness – getting a yellow in a game where you commit no fouls is always a strong play.
CM: Abdoulaye Doucoure (Everton) – 5.76
A pass completion rate of 66.7% is sub-optimal in a central midfielder, as is losing possession five times. Everton, why must you be the way that you are?
CM: Joe Willock (Newcastle United) – 5.85
Sometimes loan moves are best left as loan moves, aren't they?
ST: Richarlison (Everton) – 5.66
So there you go. Numbers don't lie. Rafa Benitez was absolutely right to substitute Monday night's hero after all. These are facts. Recorded big fat zeroes across the board in all the key attacking stats – shots, shots on target (obviously), key passes – and touched the ball just 10 times in his 57 minutes on the pitch. Of his five attempted passes, a whopping three found an Everton shirt. It was not a good performance.
ST: Raul Jimenez (Wolves) – 5.06
I like to think that even a cold, uncaring algorithm has gone "You f***ing idiot" and knocked off a few extra tenths for the quite spectacular stupidity of that second yellow card. Still reckon the first one was harsh, mind.
ST: Callum Wilson (Newcastle United) – 5.84
Not, it would be fair to say, the chief reason for Newcastle losing this game but another whose display was a statistical nothingness. No shots, no key passes, no dribbles, nine attempted passes of which six were successful. He did register an offside, so was definitely attempting some kind of attacking play at some point.